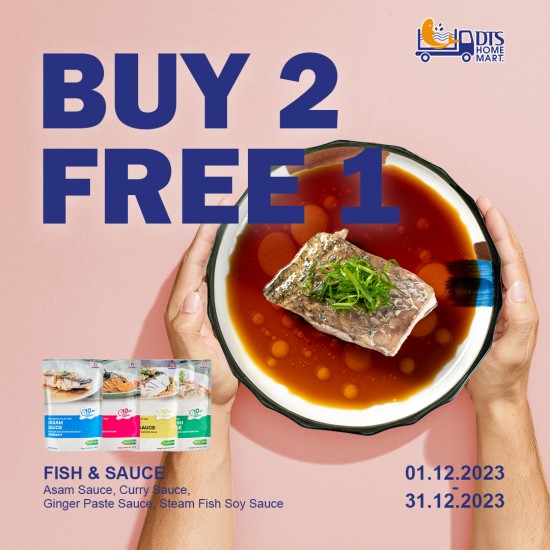 Fish & Sauce BUY 2 FREE 1@ Easy-to-Cook
Ready To Cook - Fish & Sauce
Comes with 1 pack of sauce and 1 Fish portion super convenient and simple!
4 FLAVOURS FOR YOUR CHOICE:
1. Barramundi Fillet and Ginger Paste Sauce
2. Barramundi Fillet and Assam Sauce
3. Barramundi Fillet and Steam Soy Sauce
4. Barramundi Fillet and Curry Sauce
*Kindly remark the flavour you wants!!!*
· 1 pack of Barramundi Fish Fillet and 1 pack of sauce included.
· Rich in Protein, Delicious & Nutritious - Ready in minutes!
· High-tech food liquid nitrogen freezing technology preserves fish's nutritional value.
Serving Suggestions: Steam, water boiling
· Thaw Ready-to-Cook pack at room temperature.
· Bring a pot of water to a boil.
· Place both individual fish and sauce packs into the boiling water.
· Let it cook for 10-12 minutes, and your delicious meal is ready to be served.
· 含1包金目鲈鱼片和1包酱汁
· 富含蛋白质,美味又营养,几分钟即可享用!
· 高科技食品液氮冷冻技术保持鱼肉的营养价值!
食用建议:蒸或煮沸水
· 将【一鱼一酱包】在室温解冻。
· 将一锅水煮沸。
· 将鱼片和酱汁包放入沸水中。
· 等待10-12分钟,美味的餐点即可上桌。
- Healthy, fast & convenient
- Contains a slice of Barramundi portion (boneless) and a packet of sauce
- Just put into boiling water for 10 minutes and it is ready to eat
- No chemicals, no preservatives
Stock:

In Stock

Model:

DEC Promotion Fish & Sauce BUY 2 FREE 1@ Easy-to-Cook